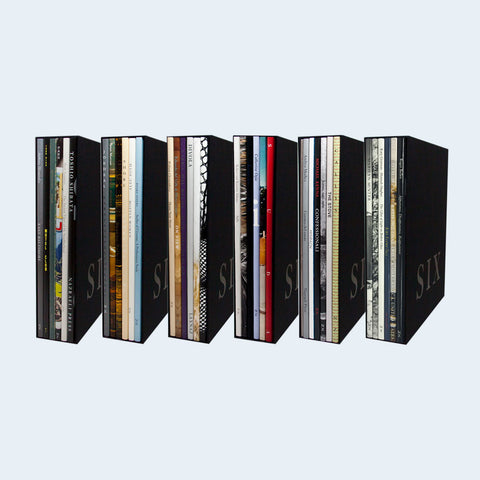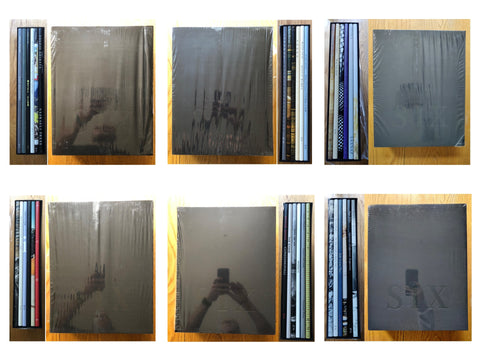 SIX BY SIX | Sets 1 to 6 (Complete)
2016
Buy the complete set of SIX BY SIX | Sets 1 to 6 
Specifications of SIX BY SIX | Sets 1 to 6 (Complete)
Each set contains 6 hardbacks in as new condition and is housed in a slipcase. Each title in the set is limited to 100 hand-numbered copies and contains a separate exhibition-quality original print, numbered and signed by the artist. Print size – 28 x 35 cm. Each book has a dust jacket. Please note that all hardbacks are signed to a dedicated bookplate at the bottom of their back cover. No markings. Please see pictures. Any questions please get in touch.
Includes:
Set 1: East Baltimore, Motel Club, Amwell, Machu Picchu, The Ancient Tigers of my Neighborhood, Expressways 1986 by Anthony Hernandez, Todd Hido, Raymond Meeks, Martin Parr, Mark Steinmetz, Toshio Shibata.
Also, Set 2: Karst / Pseudokarst, Wax Bodies, Psycho Path, Ashkelon, Mostly Women, Atelier of Cezanne by Joe Deal, Tanya Marcuse, Joseph Mills, Stephen Shore, Alec Soth, Risaku Suzuki.
Set 3: House Near Akron; On View; LAX NAZ: Los Angeles International Airport Noise Abatement Zone (Exterior Views), 1975; Fishnet; Timber Cove; Slow Fade to Black by William Christenberry, Eduardo del Valle and Mirta Gomez, John Divola, Daido Moriyama, Karin Apollonia Müller, and also Carrie Mae Weems.
And, Set 4: Sally, Monegros (Dryland Farming), Blue, The Middle of Somewhere, A New American Picture, Sparrow Island by Robert and Kerstin Adams, Edward Burtynsky, Kenro Izu, Catherine Opie, Doug Rickard and Issei Suda.
Set 5: Performance, The Stove, Japan 1951-1960, Confessionali, Misrach, L'amico del cuore by Jo Ann Callis, Thomas Demand, Kikuji Kawada, Michael Kenna, Richard Misrach and Andrea Modica.
Last but not least, Set 6: Appearances, Disappearances, Reappearances; August 29th–September 8th 2012, Oakland, Ca–Oakland Ca, United States; Ruby Every Fall; The Glint of Light on Broken Glass; Church Walk; Florida 1969 by Roger Ballen, Mike Brodie, Jim Goldberg, Katy Grannan and Hannah Hughes, Idris Khan, Marilyn Minter.
Related Links
So, more books by Nazraeli Press here.