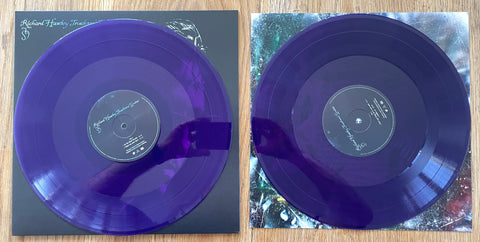 Truelove's Gutter
2019
Truelove's Gutter by Richard Hawley. Double vinyl LP reissue. New and sealed. 140gsm. Transparent amethyst vinyl.
About Truelove's Gutter
Truelove's Gutter is the sixth studio album from musician Richard Hawley. It was released on 21 September 2009 in the UK and on 22 September 2009 in the US. The album title refers to an ancient street in Hawley's native Sheffield. This street is now thought to be the location of present-day Castle Street, which was allegedly named after 18th-century innkeeper Thomas Truelove. Truelove used to charge local people to dump their rubbish in the gutter in the street that then flowed down to the River Don. Thematically, Truelove's Gutter is Richard's darkest album to date. Hawley told the BBC that the album was inspired by particularly dark periods in his life and those of others. The album features some uncommon instrumentation, such as the waterphone, megabass, and cristal baschet. The first single, "For Your Lover Give Some Time," was released as a three-track digital download on 10 August 2009. A second single, "Open Up Your Door", was released on 30 November 2009, also as a three-track digital download. "Remorse Code" was issued as the album's de facto third single on the EP False Lights from the Land on 7 June 2010.
Related Links
More LP's by Richard Hawley
here
.
Publisher:
setanta records